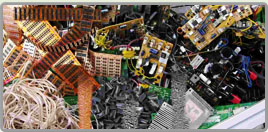 Hi Tech Full Recovery (M) Sdn. Bhd. is a major recycler of semiconductor, electronics, ferrous and non ferrous metal. We provide a side range of services in the trading, handling, treatment and recycling of e-waste products.

HTFR ensure that these products go through a proper segregation, methodology to allow the most direct and optimum recycling route whenever possible. We are in the position to collect and receive in bulk, sort, inspect, clean for re-usability as well as to recycle them.

We are interested to explore buying bulk quantity from potential suppliers. We are also in a position to supply comprehensive range of products to end users.

We possess more than 10 years of experience and expertise in this Recycling & Recovery ("R &R") business.